---
Goat Kids
Bella Fattoria Moofassah is our herd sire
Kingsfold ML Annie
04/07/2022 triplets, 1D (brown eyes, polled) | 2D (blue eyes)
ADGA/AGS Registerable
Listed Purchase Price Doelings $450/Bucklings $350
SOLD


P-1 — Tri-color buckskin with extensive white overlay and brown eyes — Sold
P-2 — Pale gold, white spotted, moonspotted with blue eyes — Sold
P-3 — Black buckskin with extensive white overlay and roan, blue eyes and polled — Sold
Rehoboth Patsy
06/18/2022 single, 1B (blue eyes)
ADGA/AGS Registerable
Listed Purchase Price Doelings $425/Bucklings $325
Pending


P-4 — Brown buckskin with extensive white overlay, blue eyes — Pending
Kingsfold AM Mallow
06/25/2022 twins, 1B (blue eyes) | 1B (brown eyes)
ADGA/AGS Registerable
Listed Purchase Price Doelings $450/Bucklings $350


P-5 — Broken black, white overlay, white poll, "bald" face, frost and brown eyes. — Available
P-6 — Cou Clair/Buckskin, moonspots with blue eyes — Pending
Mary Ann
06/28/2022 twins, 1D (brown eyes) | 1B (blue eyes)
Listed Purchase Price Doelings $300/Bucklings $200
Mary Ann is an unregistered mini-alpine. She has been with us since 2019 and has tested CAE, CL and Johnes negative, along with the rest of our herd.


Doeling — Black buckskin with extensive white overlay and extensive roan — Pending
Buckling — Broken black, white overlay, moonspotted, white poll, "bald" face, frost and blue eyes — Retained
**We will not be disbudding the unregisterable kids
Coming soon…
Bella Fattoria Moofassah is our herd sire. We are expecting the following kiddings.
The Retha

ADGA/AGS Registerable
*These babies will all have blue eyes*


Listed Purchase Price

Doelings $425/Bucklings $325
Lines may include:
Bannerfield Farm, Better Wayz, Chenango-Hills, Fairlea Farm, Kyeema Ridge, Lady Walkers, Little Tots Estate, Old Mountain Farm, Piddlin Acres, Rosasharn, Sweet Garden, Terra Bella, Tiny Town, Waterloo Pond, Wooly Dog Down
**View individual pairing pedigrees for specifics.
contact@durkinfamilyfarm.com for more information
---
We Have Ducklings!!!
Swedish ducklings!! We now have a variety of Swedish ducklings. Blue, black, speckled and two appear to be tufted.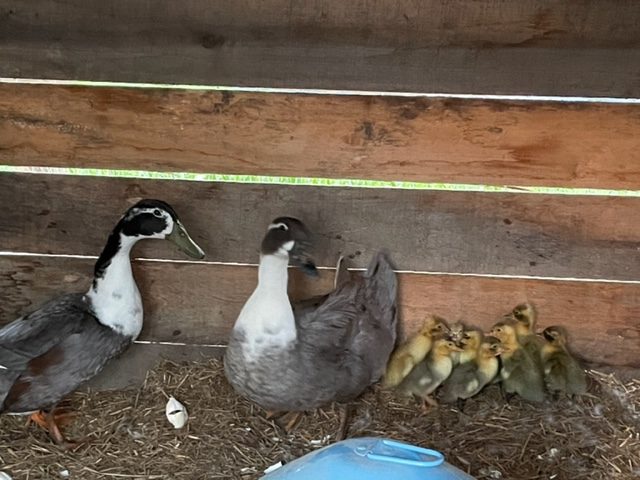 Barnyard mix, free range, Swedish/Rouen mix ducklings hatched 04/24 – 04/26.
Mix duckling straight run $6 each
Swedish duckling straight run $10 each
Swedish hens adult $30 each
Swedish drakes adult $20 each
contact@durkinfamilyfarm.com for more information
Learn more about our ducks.
Feeding and maintaining grown ducks costs substantially more than ducklings.
Ask about our discounts on multiples.
Our prices are in line with hatchery ducklings before shipping. WE DO NOT SHIP.